Applications for the Funza Lushaka bursary for 2023

Re-applications for Existing/Returning Bursars
For the FET (Grades 10-12) position, preference will be given to candidates with a teaching major in TWO of the following subjects:
Accounting
Agricultural Sciences
Agricultural Technology
Civil Technology
Computer Applications Technology
Economics
Electrical Technology
Engineering Graphics and Design
Geography
Information Technology
Life Sciences
Mathematics
Mechanical Technology
Physical Sciences, Languages, Technical Mathematics and Technical Science
Requirements:
Three groups of students may apply
Learners in Grade 12;
Graduates who have as their aim to complete a postgraduate education qualification.
People who have a desire to become teachers.
To access, register, and apply for the Funza Lushaka Bursary, please follow these 9 straightforward steps:
NOTE: All first time applicants must be 30 years or younger to apply for Funza Lushaka Bursary.
Open the e-Gov portal at www.eservices.gov.za
Register by providing personal information
Log in to the system using the username and password
On the e-Services Menu select Funza Lushaka Bursary Scheme
Enter the OTP received on the preferred channel
Accept the Terms and Conditions
On the dashboard menu click on the 2023 application button
Follow the steps to complete the required field with your information
Accept the declaration to confirm the information captured
How To Apply And Application Details
Funza Lushaka Online application is a must

Go to the e-Gov portal at www.eservices.gov.za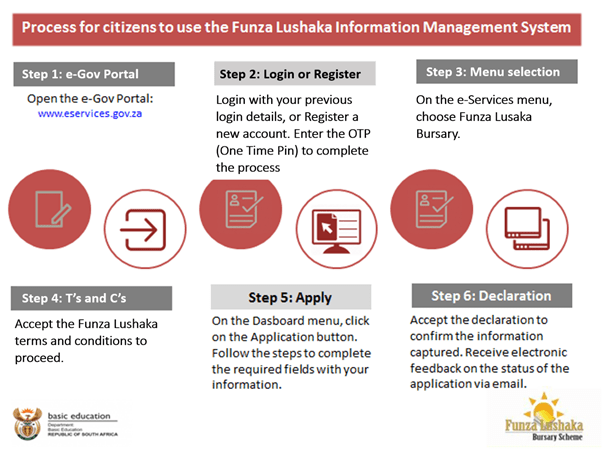 The department aims to increase the supply of newly qualified teachers in mathematics, science and technology in different phases by providing 38 000 Funza Lushaka bursaries to prospective teachers over the medium term.The number of bursary awards is set to decrease from 13 500 in 2018/19 to 13 000 in 2019/20 and 12 500 thereafter as the general increase in university costs exceeds this allocation's average annual growth of 5.5% over the MTEF period.
.