Packaging QC Job at RCL Foods – Apply Now!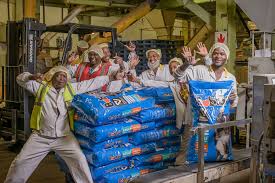 Job Description: Packaging QC
Join our team at RCL FOODS and contribute to our mission of providing more food to more people, more often. We are currently seeking a Packaging QC professional to join our Groceries Division in Randfontein, Gauteng, South Africa.
As the Packaging QC you will report to the Snr Lab Analyst and be responsible for maintaining high standards of Food Safety and Hygiene, as well as ensuring the quality of production and 3rd party quality checks and the receiving of raw materials.
Minimum Requirements:
Grade 12
Minimum of 2 years' experience in a Lab environment
Proficient in reading, writing, and understanding English
Ability to work under pressure
Strong team player
Willingness to work shifts and overtime if required
Professional conduct at all times
Duties & Responsibilities:
Management and Maintenance:
Implementation of policies and procedures for managing and maintaining RCL Foods Consumer Grocery facilities and assets.
Compliance:
Ensure compliance with OHS and FSSC22000 requirements.
Reporting and Communication:
Report any problems to the Snr Food Technologist.
Perform tasks instructed by the Snr Food Technologist.
Lab Operations:
Work within the Lab department as needed.
Adhere to the clean-as-you-go policy.
Operate machines and pack products.
Ensure the correct product is packed in the correct bag according to the production schedule.
Report quality and safety-related problems.
Meet daily targets.
Wear required PPE.
Fill in relevant documents when necessary.
Product Quality:
Oversee the daily production and ensure clear and visible printing of MNF Dates and BB dates on packed products.
Assist in monitoring and controlling stock, checking and verifying weights, packaging material, and barcodes according to specifications.
Monitor the manufacturing process and ensure finished products meet high-quality standards.
Prioritize quality before booking products into the stores/warehouse.
Staff Management:
Assist in overseeing and controlling staff, ensuring good timekeeping and managing absenteeism.
Machine Operation:
Change packaging rolls as required by the machine.
Documentation:
Create DMS 'Document Management System' when needed.
Non-Conformances and Complaints:
Assist with handling non-conformances and customer complaints.
Apply now for the Packaging QC position at RCL Foods and be part of our dynamic team.
You can also apply other ,job opportunities, at RCL Food Here on Link.